The Mimosa Marketplace Membership is here.
​
It's time for us to move together, build together, and level up together.
​
​
This membership is for:
Boss Ladies. Women who want to level up in life.
In Business. Women who are in business or want to be soon.
Together. Women who are ready to build their vision and move in community, collaboration, and coalition to make that vision a reality.
​
$99 a month.
​
With your Mimosa Marketplace Membership, you'll receive:
​
Access to a network of women in business committed to sharing their skills, time, talents, and networks to grow your business

Monthly membership in the H3W Investment Club to access speakers, resources, information, and conversations with other women of color about financial wellness (value of $49.99 per month)

Discounted rate on one-on-one wellness coaching sessions (regular price of $500 per session)

Complimentary food and beverages at the monthly Mimosa Marketplace event (value of $35+)

A vendor feature in the Mimosa Marketplace virtual vendor booth

Invitations to Mimosa Marketplace retreats, mastermind sessions, and networking events

Social media mentions in Mimosa Marketplace posts and targeted advertising

Gifts, discounts, and other perks from our partners and members
​
​
We love making an introduction....
​
We're working in partnership with organizations across Houston and around the nation to bring you together with new clients, new customers, new networks, and other women of color in business.
​
Right now, the Mimosa Marketplace Membership connects you to these opportunities:
​
Saturday, November 26: Mimosa Marketplace in partnership with Melodrama Boutique for the Annual Sidewalk Sale & Small Business Saturday
​
Sunday, December 11: Mimosa Marketplace in partnership with H3W Campus Wellness Ambassadors Program College & Career Mentorship "Take Care of Black Girls" Brunch at the Museum for Black Girls
​
​
​
Create Your Vision. Build Your Business. Expand Your Brand.
​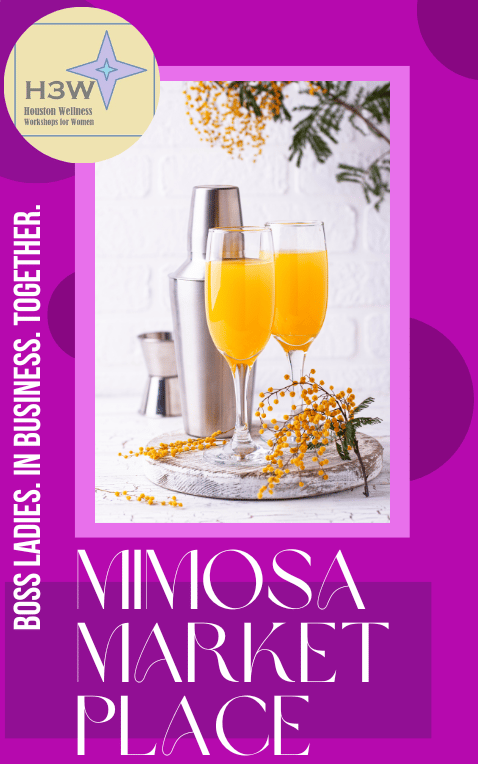 ​